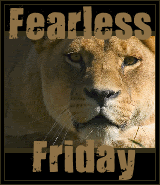 It's Friday once again. This is a day we come together to pray for each other.
"So do not throw away your confidence; it will be richly rewarded. You need to persevere so that when you have done the will of God, you will receive what he has promised." Hebrew 10:35-36
Please pray for my job application, that they'll choose me for the position I've applied for.
Please pray for Denise and Eddie; Mel; Sylvia; Angie and Sheila for healing and financial provision.
If you have prayer requests and you need somebody to stand in the gap for you, please leave a comment here and I will pray.
Visit Angie at

Free Spirit Haven

for more Fearless Friday entries.