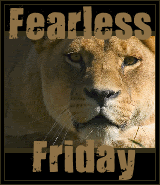 I'm joining Angela over at
Free Spirit Haven
for another Fearless Friday. Do you have prayer requests? You can leave me a comment here or you can email me. I will be praying for you.
My prayer request this week are for standers around the globe. May God grant us peace, strength and grace as we stand and wait for God's promises to come to pass in our lives.
I've met another stander when I attended a Bible study group last week. Her story is somewhat similar to mine. She was so happy to know that she wasn't alone in this world standing for a covenant marriage like hers. So many standers around the globe are in pain because of their hurting, dying or already dead marriages. But remember that we serve a God who is able and willing to restore hurting and even dead covenant marriages.
Please pray with me.