It has been one whole year of fun blogging. Thank you all for sharing it with me. I'm looking forward to having more blogaversary to come. Love y'all!
*********************
Something happened this week that required me to hold on strong in my faith in God. It was made clear to me that everything happens for a reason. Whether good or bad, there's a purpose why things happen. I may not totally comprehend why, but with my faith that God is in control, somehow, in the midst of all the fuss, I have peace. I feel so sorry, though, for someone very close to my heart. I pray that God will move in this person's life soon.
I would like to thank Bonnie for all the prayers and the encouragement she sent my way this morning. God bless her.
*********************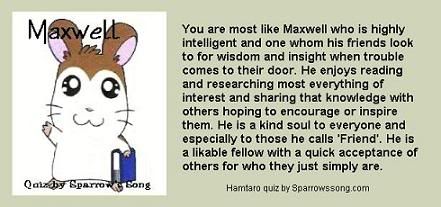 Which Hamtaro character are you?
Take this quiz at Sparrow's Song